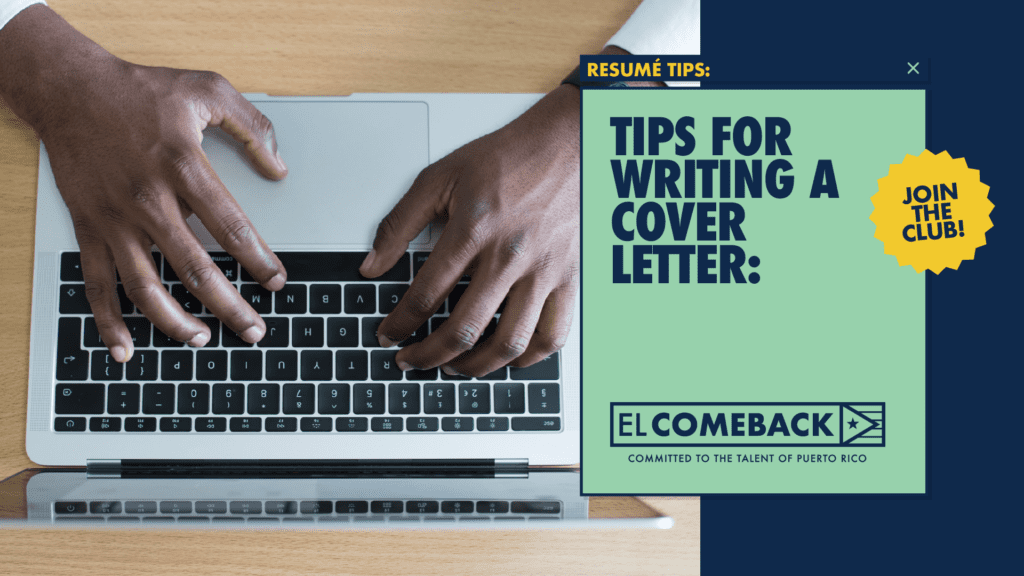 The cover letter is a document that usually explains why you're the right fit for a position and is one of the most important documents to capture a recruiter's attention.  
A cover letter is not necessary for every job opening. "Let's say you want to work in a restaurant, store, or a boutique—what [the recruiter] is going to be looking for is your availability for the job, your ability to learn, and that you can quickly master the service or task for which they are looking for staff. In that case, you don't have to write a cover letter," said Cassandra Vega, senior manager of the Universidad del Sagrado Corazon's careers unit. Vega explained that a cover letter is necessary when applying for opportunities with specific skills, managerial or supervisory positions. 
"Sending the letter makes the process more unique. Also, it really helps the recruiter know your interests or why you decided to apply for the position in the company," commented Miriam Aquino, Human Resources Coordinator at Wovenware—a local and international software development and artificial intelligence company. (And one of our partners at El Comeback.) 
Aquino explained that they do not require a cover letter for the process. "We receive applications or resumes directly by email. That is why most candidates use the body of the email to introduce themselves. They do not attach a cover letter," Aquino said.
 "Personally, I like when the person puts an excerpt of that letter and indicates that attached to the email they are sending the cover letter and the other professional documents for the evaluation. It can be the resume, but it can also be a link to your LinkedIn account, your professional or creative portfolio, among other documents", said Vega. 
Important Elements of a Cover Letter
When writing this document, it is important to use appropriate language. According to Vega, both the cover letter and the resume should highlight keywords that appear in the job description prepared by the company. 
Likewise, there are other elements that should not be missing. "Many people do not include the contact information. Sometimes it arrives directly by email, we answer the email and we look for a way to contact those profiles if they do not include contact information beyond the email—such as the telephone number— sometimes the contact is lost", Aquino pointed out. 
The format to follow should be that of a formal letter. In the beginning, your name and contact information should be included. Then, the recipient's information and date.
You should also include a heading or salutation. In this part, it's important to use the correct name and title of the person you're addressing. If you can't find the recruiter's name you can start with, "To whom it may concern" or "To the recruiting team of X Company". 
Once the salutation is completed, an introductory sentence is written according to the general rules of courtesy. This can be followed by a sentence that explains why you want to work for the company. This sentence will segway to the body of the message where you should briefly explain your intention, achievements, and experiences. Make sure that you're not repeating your resumé, but rather, telling a personal story that shows why you should be considered. 
Finally, close the letter with a farewell (for example "Thanks," or "Sincerely,") and sign with your name. 
Writing a cover letter is a sign that you analyzed the position, its requirements, and its responsibilities. It's also an opportunity to showcase your personality and communicate your strengths and skills. 

Make sure to read our 7 tips for writing the perfect resumé.
---
El Comeback, a program of the nonprofit ConPRmetidos, attracts and retains professional talent for 🇵🇷 Puerto Rico-based jobs. Register to get matched with professional opportunities on the island.