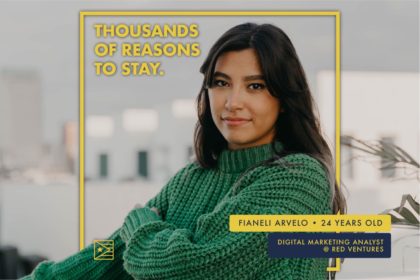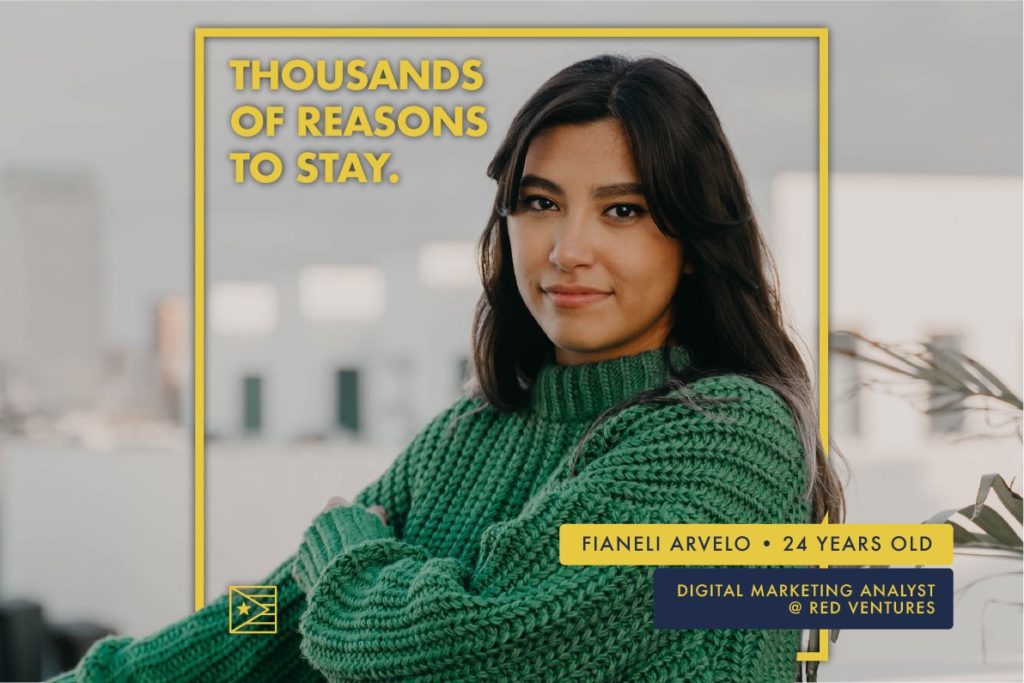 Fianeli Arvelo is a 24-year-old graduate of the University of Puerto Rico, Mayagüez Campus (UPRM), where she studied Industrial Engineering with a minor in project management. After graduating, with the help of ConPRmetidos, she received a job offer from Red Ventures as a Digital Marketing Analyst.
The young woman recounted that in 2020 she saw an online advertisement for ConPRmetidos promoting the El Comeback program, which seeks to attract and retain professional talent to the island. "I loved the mission and vision of the program, so I decided to sign up," said Fianeli, who also owns a small candle business.
Finding a Job on the Island
Fianeli had great faith that through The Comeback, she would find an employment opportunity on the island. That is why, "even though job opportunities came up, I didn't take them into consideration because I had no interest in leaving Puerto Rico," recalled Fianeli, a native of Bayamón.
During her college years, Fianeli worked in the manufacturing, consulting, and service industries. In one of the internships in which she participated, she was able to help non-profit organizations and local businesses. Because of this, she confirmed that Puerto Rico has employment opportunities.
"I have always felt a great commitment to the University of Puerto Rico and our country. Unfortunately, it is common for students, once they graduate, to decide to leave the country. One of the reasons I felt inspired to give back to Puerto Rico and stay here to work was my college experience. I started my studies in 2015; during the following years, we lived through many things, strikes, hurricanes, earthquakes, and a pandemic. All these things made me see the vulnerability of our country and the importance of uniting and supporting each other to make a big impact," explained Fianeli.
When she received the news that her career opportunity was available, she was still a college student. "However, I felt very fortunate to receive help from ConPRmetidos because the hiring process was smooth and fast. As soon as the ConPRmetidos team sent my information to Red Ventures, they contacted me. Their communication was excellent, and they explained everything about the company and the program they were offering. In 2 or 3 months, I already had job offers after graduation." said Fianeli.
The Employer: Red Ventures
Red Ventures is a global company that owns and operates digital brands such as CNET, Bankrate, Healthline, Lonely Planet, and, in Puerto Rico, Platea.
Melissa Laffitte, talent recruiter, and Giovanna Guerrero, Talent Operations Lead at Red Ventures Puerto Rico, know firsthand what it is like to be a young professional who wants to contribute with their work to the development of the island. Both studied and worked outside Puerto Rico until Red Ventures opened its doors to them. Therefore, they seek to extend that opportunity to more people on the island.
I moved here four years ago when news of a program called Forward 787 started coming out. This program was created by Ric Elias, the CEO of Red Ventures, who is Puerto Rican. This program was looking for ways to get talent that wanted to be in Puerto Rico to make an impact on the island. ", recalled Giovanna, who started as a Senior Associate doing digital marketing and took a leap into the world last year of Talent and Operations.
As El Comeback, Red Ventures Puerto Rico provides opportunities for students to help them see and understand that they don't need to leave Puerto Rico to grow professionally and obtain a good salary. In addition, we believe that they and their knowledge are one of the most critical aspects of improving the economy of Puerto Rico.
"It's been a great experience to collaborate with El Comeback program because it makes recruiting easier for us. We let them know what roles we have available and the El Comeback team shares resume of suitable candidates with us so we can evaluate them", explained Melissa and Giovanna.
El Comeback, a nonprofit program from ConPRmetidos, attracts and retains professional talent for 🇵🇷 Puerto Rico-based jobs. Register to get matched with opportunities on the island.